Preschool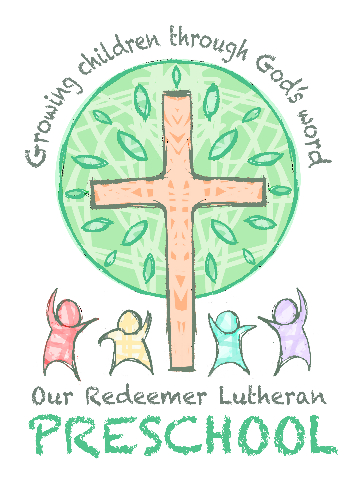 Our Redeemer Lutheran Preschool is now enrolling for the 2017-18 school year. Find out more about our preschool program for 3 and 4 year olds and Parents Day Out for 1 and 2 year olds today!
Email preschool@orlutheran.com.
Kristin Tarry
Teacher/Director

Susan Thuringer,
Parents Day Out Teacher
Preschool Forms (PDF)
2017-2018 Registration Form
2016-2017 Calendar
Parent Handbook
Mission Statement
The mission of Our Redeemer Lutheran Preschool, a ministry of Our Redeemer Lutheran Church-Missouri Synod, is to share the Good News of salvation through faith in Jesus Christ, to teach the children the truths of God's Word and to help them develop a strong positive self-worth as valued children of God.
Objectives
The objectives of our preschool are to:
Emphasize the love of Jesus Christ
Promote spiritual development through the Word of God
Provide a safe and secure Christian environment
Provide specific cognitive learning experiences designed to enhance each child's social, emotional, intellectual, physical and spiritual development
Provide a strong learning foundation for each child, helping to ensure future success
Classes, Times & Tuition
3 & 4 Year-old Classes
Monday, Wednesday, & Friday - 8:45 a.m. to 11:45 a.m. - $160/mo.
Your Child's first age-appropriate school experience provides a themed curriculum, educational experience, and a hands-on learning environment designed to help them learn and grow!
All students must be 3 or older by October 1 to attend. Children must be toilet-trained for the preschool class.
Lunch Bunch
11:45 a.m. - 12:45 pm on Wednesday - $16/mo.
For students enrolled in our Preschool program
Students pack a lunch and enjoy an extra hour of socialization and fun!
Parents Day Out
Ages 1 and 2 years. 8:45 a.m. to 12:45 p.m. on Wednesdays - $75/mo.
An introduction to socialization and transition from the home with opportunities to explore and learn.
All students must be 1 or older October 1 to attend
Offers parents a morning to complete daily tasks or simply relax.
All tuition payments are due by the 5th of each month. Tuition is established on the basis of the total school time for the year and divided equally by nine. There will be no refunds for time out of the school due to vacation (family or school calendar) or illness.
Fees
A non-refundable registration fee of $50 is charged and collected at the time of registration.
A one-time supplies fee of $50 is charged and collected by January 15.
Mid-year enrollees are prorated for registration fee and supplies fee.
School Calendar
Click here for a the 2016-2017 School Calendar
Contact Us
Our Redeemer Lutheran Preschool
2255 Eastland Parkway
Lexington, KY 40505
(859) 299-9615